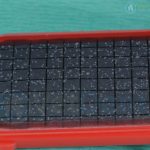 The Merck Red Samplers (sold here as VetDentist Red Samplers) use the m-HPC Medium which is designed to cultivate bacteria from a stressed environment (such as a low nutrient media, or one with low levels of chlorine in place). This media is designed specifically for water testing and is suited for incubation at room temperature over a period of one week.
Typically white "Dip-Slides" use a BT3 "general purpose" agar. This is not designed for the low nutrient environment of water born bacteria. False negative results can arise.
Simply sending a sample of water off to our normal pathology laboratories will yield strange, or "no growth" results. They are used to encouraging growth from infected sites on our patients – not for dealing with "dirty" water samples.
A more suitable R2A medium is used in some dip slides. Which is fine – however the VetDentist Red Sampler absorbs precisely the 1ml of water required for the test. This means that the colony count from the VetDentist Red Sampler is truly a count of the Colony Forming Units per ml and is equivalent to the TVC (Total Viable Count) per ml obtained from UKAS certified laboratories.